Roger Cardinal Mahony, Archbishop emeritus of Los Angeles, has announced a new photographic portrait of himself and offered to send a signed copy to any priest in the archdiocese who requests one. One wonders why anyone would want a signed photograph of a man who is universally acknowledged to have covered up clerical sex abuse on multiple occasions, but His Eminence appears to believe that there is a demand for this memento: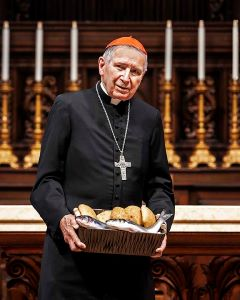 Cardinal Mahony contrasts this photograph with his prior portraits which showed him "in the choir dress of a cardinal." This new photo "was meant to harmonize with the call of Pope Francis for us to be humbler, showing compassion and mercy, and being with our people in servant leadership."
Cardinal Mahony may wish to separate himself from the trappings of office in his new portrait, but he certainly does not want to divest himself of his protected status as a Cardinal, which has prevented his successor, Archbishop Gomez, from restricting Mahony's activities in the archdiocese. Mahony has taken advantage of his privileged rank and made appearances at various events, such as the consecration of auxiliary bishops; though all involved (except for Mahony) would surely prefer that he stayed home. This makes his latest self-attribution of priestly humility ring particularly hollow.
There is more to Mahony's false humility. He says, "when I retired, the image of the Unprofitable Servant [Luke 17:7–10] helped to focus me these past years." He provides this new portrait in keeping with this theme of the unprofitable servant. This theme is prominent in a homily Mahony gave at a Mass in 2015. The Gospel reading for that day was from the Gospel according to St. Luke:
Jesus said, "Who among you would say to your servant who has just come in from plowing or tending sheep in the field, 'Come here immediately and take your place at table'? Would he not rather say to him, 'Prepare something for me to eat. Put on your apron and wait on me while I eat and drink. You may eat and drink when I am finished'? Is he grateful to that servant because he did what was commanded? So should it be with you. When you have done all you have been commanded, say, 'We are unprofitable servants; we have done what we were obliged to do.'" [Luke 17:7—10]
Bizarrely, Mahony, who, by his own admission, did not do what he was supposed to do, identifies himself with this "unprofitable servant," the one who did what was required of him. In his homily, Mahony states:
That's how I long to be remembered— as an unprofitable servant. And it is in reality how I actually am remembered by many—a grace for which I give thanks to God.
When Archbishop José Gomez became our active Archbishop on March 1, 2011, I formally completed my years of toil in the fields and with the flock, and I am accepting God's invitation to live out my remaining years as his unprofitable servant.
A video and written transcript of this homily was posted by Mahony himself on his blog. This homily is revealing, though not perhaps in ways that Mahony intended. He addresses his contemptible failures on sexual abuse in this way:
From 1986 on . . . this unthinkable evil [clerical sex abuse] would gradually begin to rise from the murky darkness. And it would seem to never end. My early efforts failed to grasp the depth and extent of this sinfulness, and I searched in vain for answers and how best to proceed. I did not understand how deeply victims of sexual abuse were permanently afflicted; that would only emerge in later years. Almost daily I proved to be unequal to the task.
It was not until the early 1990s that several things became clearer: anyone in ministry who had been credibly found to abuse a minor could never return to ministry; victims needed urgent and continuing pastoral care for years to come; all of our Church apostolates needed to be fully vigilant against allowing anyone to be with children and youth who could possibly be a danger to them.
It is false and self-serving for Mahony to even suggest that he made "real efforts" to deal with sex abuse before the 1990s. Mahony actively covered up instances of clerical sex abuse, when he wasn't simply ignoring them. In one especially egregious case, he declined to act after being informed that a man with AIDS had been committing unnatural acts with a parish priest who in turn was abusing high school students. As the LA Times reports, the average life expectancy of an AIDS patient at the time was 18 months.
Even more extraordinary is Mahony's contention that he "did not understand how deeply victims of sexual abuse were permanently afflicted." His eminience Roger Cardinal Mahony, before God and the entire world, declared in the Cathedral of Our Lady of the Angels that he did not realize that being raped caused serious and permanent harm. Such a man should never have been ordained, much less been made a bishop and then a cardinal. Had Mahony truly realized his faults, and truly appreciated how unprofitable a servant he had been, he would have retreated to a life of penance. Instead, he has continued to act as a Prince of the Church, and is now in the business of sending priests signed pictures of himself.
As a Cardinal, Mahony has a great deal of freedom, freedom that can only be curtailed by the Holy Father. For whatever reason, Pope Francis has declined to publicly discipline him. Nevertheless, Mahony can and should discipline himself. The Saint Peter Damian Society calls on Cardinal Mahony to do penance, to sin no more, to avoid whatever leads him to sin, to cease public ministry, and to stop sending pictures of himself to priests.
St. Peter Damian
Ora pro nobis